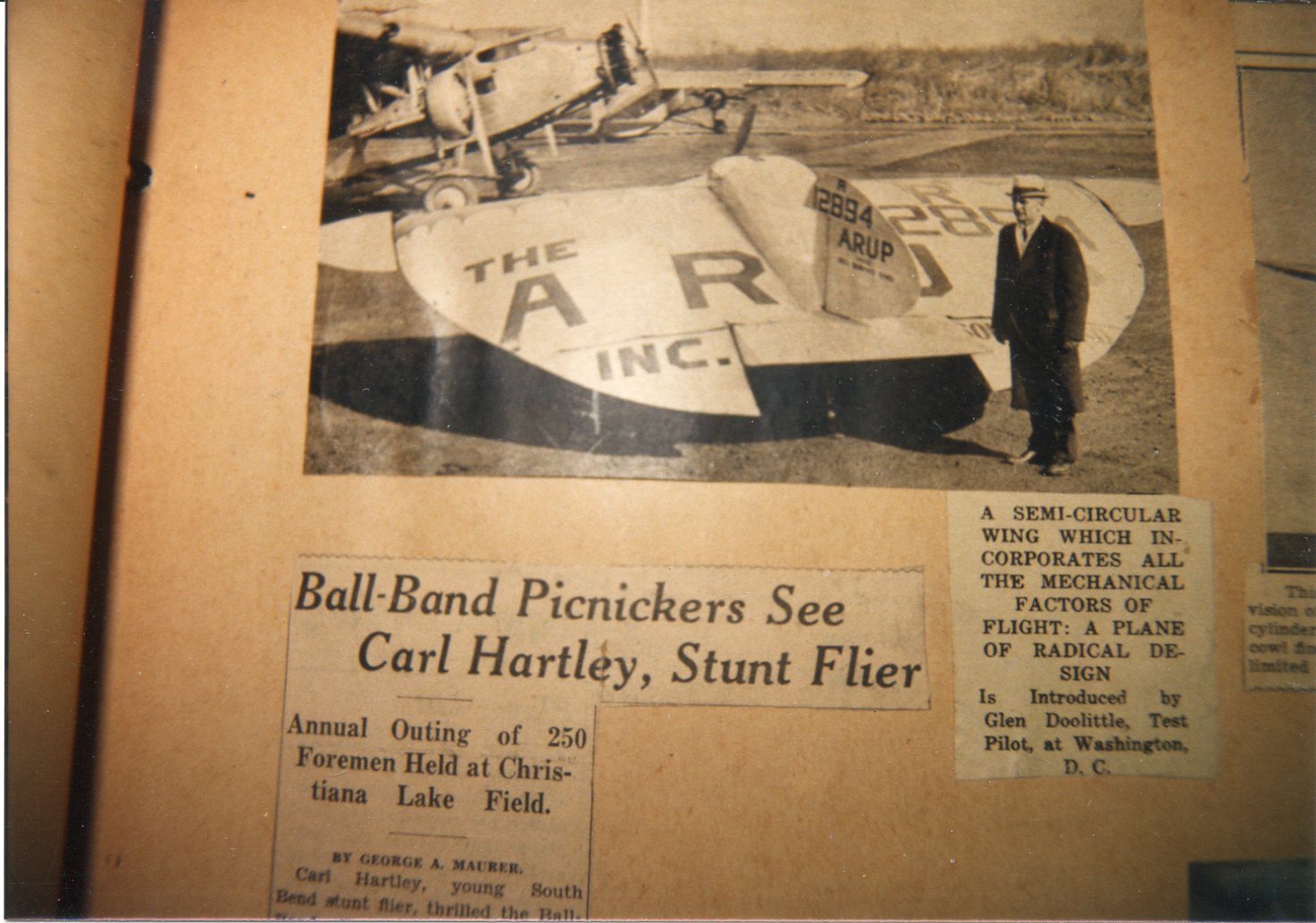 Milton Larue Hatfield
Born 11-2-1908 Niles Michigan Died 3-11-1994 Bristol, Indiana
Life Long Aviator, Inventor and Friend.
Milt's flying career started at age 18 in 1926

Born on November 2, 1908 just two years after the Wright Brothers flew their plane at Kitty Hawk, NC.

Milt never let any grass grow under his wheels. He loved engines and anything mechanical.

Milt's father, who was a brick mason and worked for Studebaker in South Bend, Indiana would not allow him to pursue aviation, he had to wait until age 18 to start a life that involved aircraft!
So, in early 1927 Milt got his start.

This was Milt's first plane in 1927, a home-built he made from old Jenny parts he scrounged.
The engine was to come from an old Henderson Motorcycle, 4 cylinder. The motorcycle that donated the 4 cylinder inline engine is just behind the fuselage.

As you can see his shop was nothing to write home about!
Milt's dad would not let him fly it because as of this time he had not yet flown anything. So, Milt removed the engine and sold the plane as parts and used the money to buy flying lessons.
Milt progressed pretty quickly and purchased an American Eagle Aircraft Szekely powered Eaglet and on to an Arrow Sport in 1931.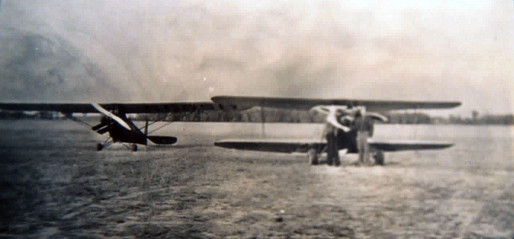 About this time Milt went on to get his commercial and started instructing. He managed the Mishawaka Airport on the corner of Capital Ave and Dragoon Trail SE of Mishawaka, IN.



He spent a lot of his time trying to start Aero Clubs. I have a newspaper clipping from 1932 where he invited all interested in flying to the Nappanee field which was located on SR19 across from the location today of Northwood High School. The farm was owned by the Stahley's. He said for as little as $10.00 each, a group of 10, could purchase a plane and start a flying club.

He did end up helping the Mishawaka Pilots Club to form.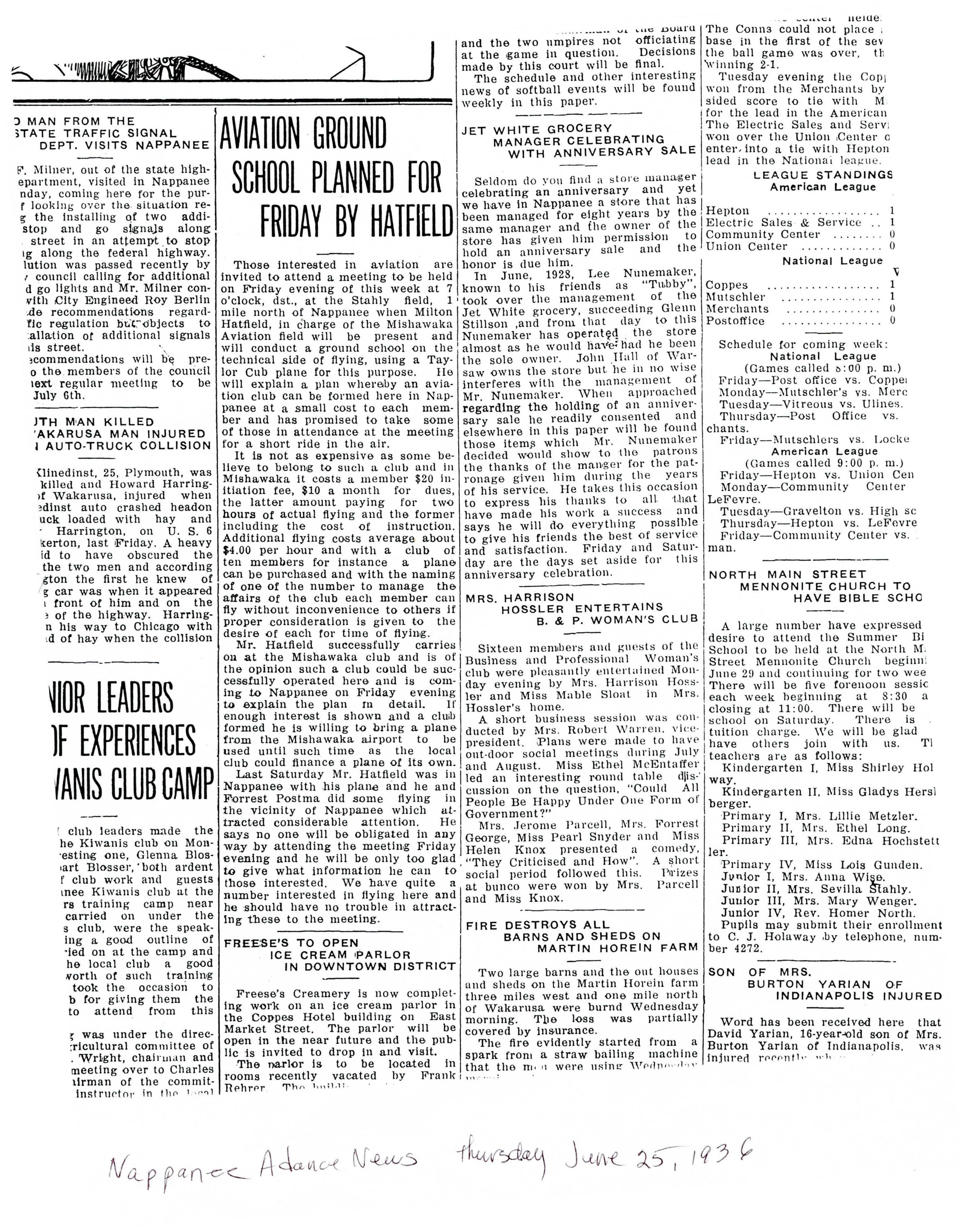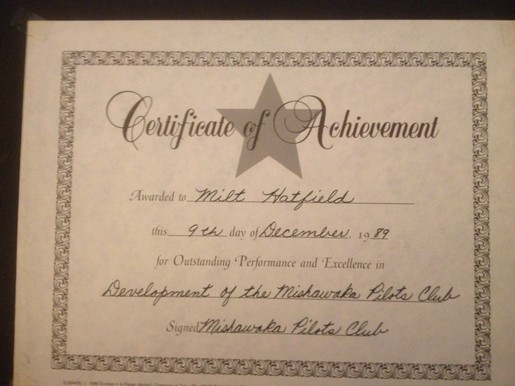 An OX5 powered Curtis Wright Travelaire 2000 got into the mix in 1932
In 1933 Milt purchased this F-2 Waco after it had been damaged and needed rebuilding. Here it is back ready to fly.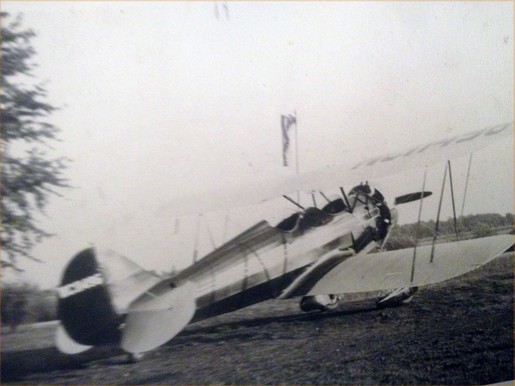 1935 and 1936 were big years for Milt. He ended up loaning the Henderson engine from his home-built to Dr Snyder to power the Glider version of the ARUP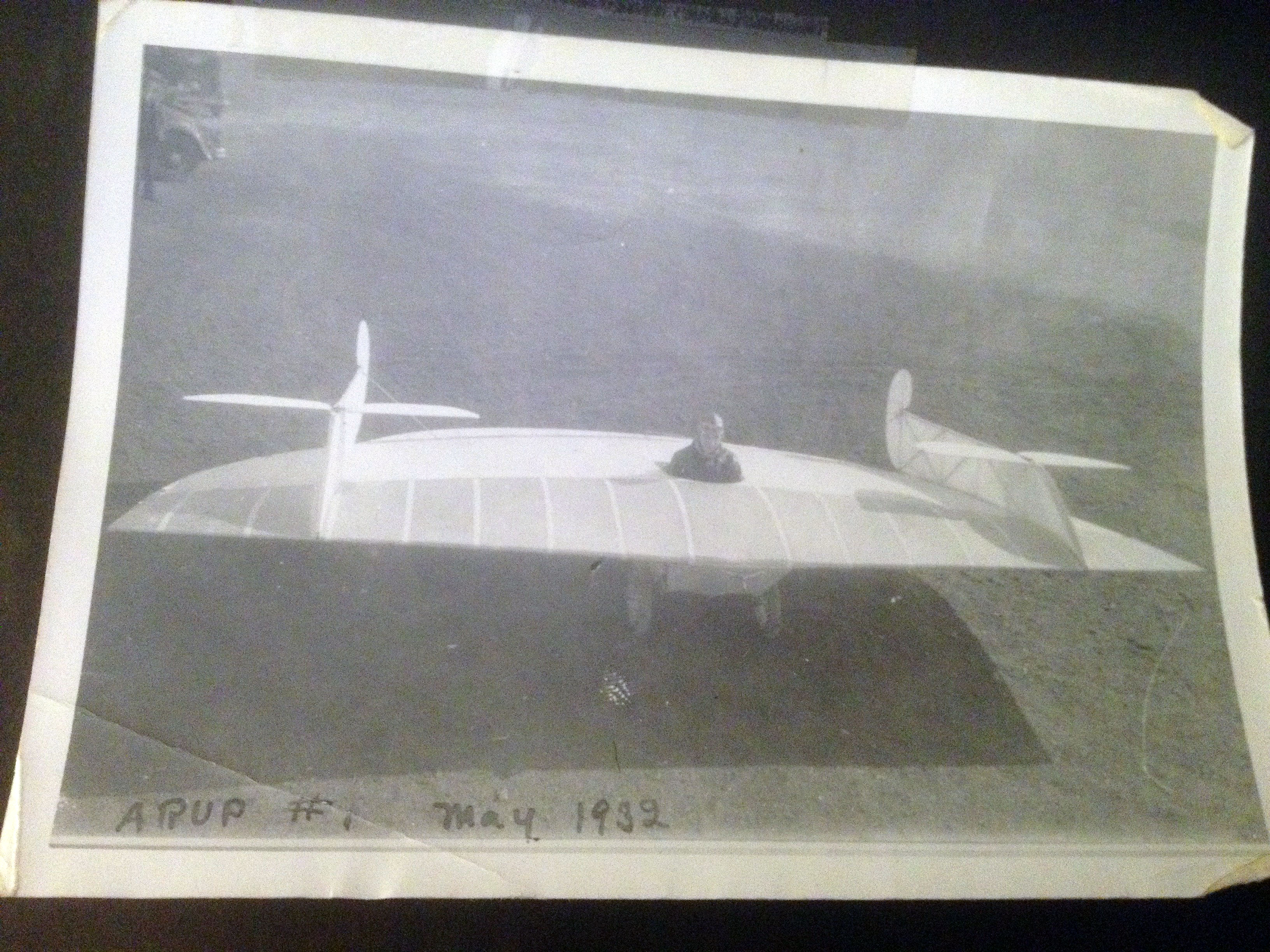 Milt loaned Doc a prop and ended up being the only pilot able to get it off the ground. It must have been all that training in the 2 place Eaglet with a 30hp Szekely.
He went on to put test time on both the S2 along with pilot Glenn Doolittle. The S2 is above and the S4 below. I could talk Arups all day. Milt had a long term love for the design that will surface in his later years.
Here is a photo seldom seen. Many planes were simply left to rot during the depression years. This is the S4 as noted by the N number 4529. It simply faded away and was eventually scrapped.

Dr C Lloyd Snyder (center) Raoul Hoffman on his right. I believe that is Glenn Doolittle, test pilot in the dark suit on Dr's left.
Here are photos of a 7/8 replica of the ARUP S4 that resides in South Bend, Indiana at the South Bend International Airport. Built by Bernie Rice, sometime in the 1990's. Bernie was a local aviation historian, and members of his family helped him build the replica. The Flying flapjack goes to show that the design did have some influence on future work.
Milt was known for being kind to kids and trying to teach them lessons in life as well as how to fly. Dick Thiem was one of those kids. You see, Dick had been orphaned and was at the Mishawaka Orphans Home in 1931 and if not for the job of fueling and washing airplanes for 50 cents a day, the noon meal and occasional candy bar he may not of survived to adulthood as he told it. He use to tell of having to taxi planes to the other end of the airport to wash them. At 13 and a bit cocky he got a little to fast one day and soloed himself.

Dick went on to become a Navy pilot that fought in WWII. He is credited with finding pappy Boyington in a Japanese prison camp. They had painted "Boyington here" painted on the roof. Dick spotted it and reported it. He sunk a ship and was credited for two downed Japanese planes. He had 27 1/2 years as a Navy pilot, also serving in Korea with 273 carrier landings in Grumman F9F's and when mustered out he had logged 16,870 hours in 1969. Unknown to many including myself Dick was assigned to NASA and was put in charge of a six ship fleet to track and recover Mercury and Gemini spacecrafts.

Dick passed away in 2014 and I will always remember that he too, like me, was one of Milt's kids...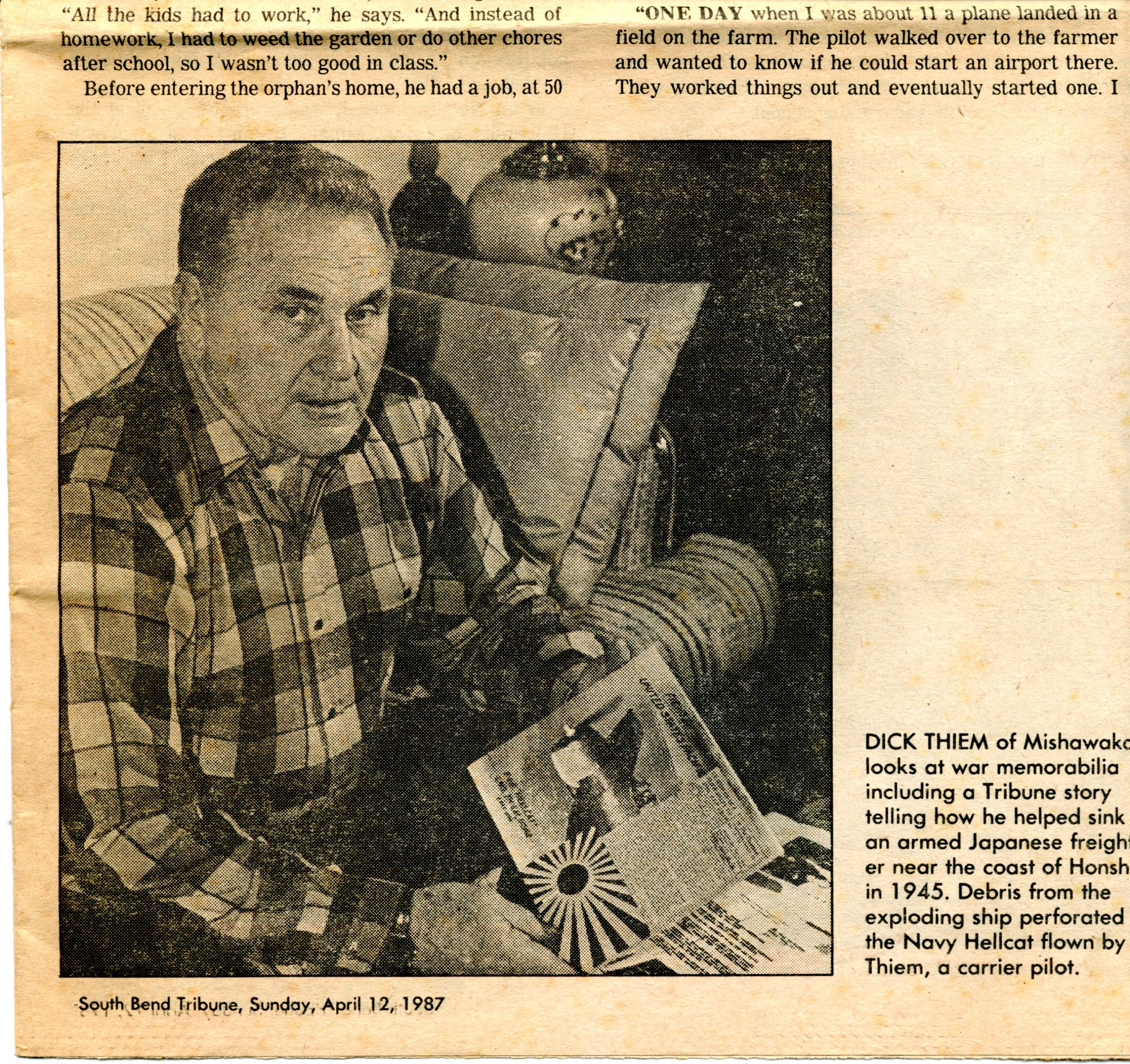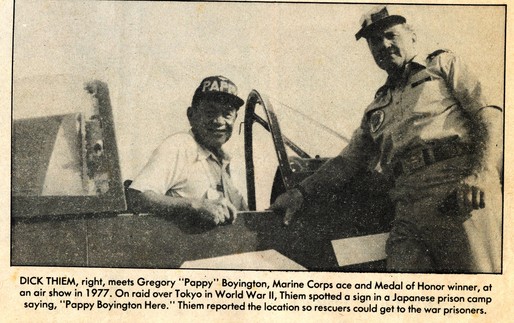 In 1936 Milt purchased a Challenger Robin. Unlike the OX powered planes of the day you could get to your destination without having unscheduled off field stops for engine repairs. Milt started doing charter flights and he also carried the mail. However, his love was teaching others how to fly.


Along about this time Milt moved from South Bend to Rochester, Indiana and was flying charters, had an airmail route and started a new venture.


Milt liked motorcycles. He had the old Henderson when he was young. He had an Indian and a number of Harley's over the years too. However, he thought everyone should be able to afford to ride.

Note the one with the pusher prop! Only an airplane guy would think of this!



SCOOTERS SENT TO FOREIGN PATRONS Milton Hatfield, manufacturer of "Put-Put" motor scooters stated today that along with a brisk trade from jobbers and individuals in the United States, he is also exporting them!
It was about 1938 he moved his family, wife and daughter, to Grand Rapids Michigan to instruct and manage a CPT flight training program.
Here is an Aristocrat that belonged to Lee Roski of Niles Michigan. Lee was a good friend of Milt's and ran the Niles Michigan airport and did aircraft maintenance for years. He was a Piper dealer and the Niles airport still has the largest collection of Tri-Pacers around!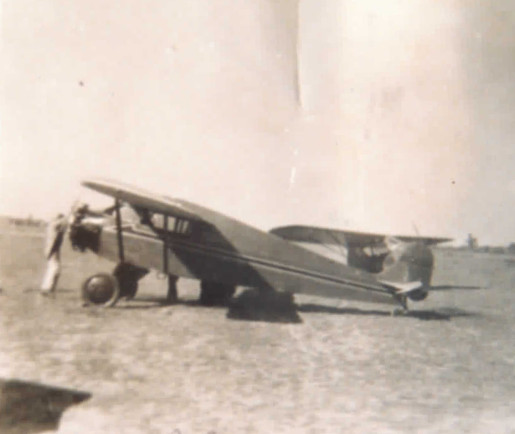 He started the Star Put Put Company in about 1937. He designed and patented his own centrifical clutch which is still found on mini bikes, chain saws, you name it..... If he did not find what he needed for a product, he made it. He designed, built and used almost a dozen different 2 and 4 stroke engines on his Put Puts. He had many models......

Shop Locations:

King Aero Aviation Services
1205 CR 6 West, Bld. 2B
Elkhart, Indiana 46514

King Aero Aviation Services
689 North State Road 25
Rochester, Indiana 46975